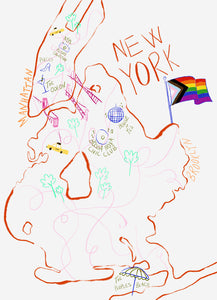 NYC PRIDE
Ben & Adam's
New York City
This year for New York City Pride, FV eCommerce Director Ben Bradley and FV Art Director Adam Ward share their favorite LGBTQA+ spaces, businesses, and organizations across the city.



Ben's NYC Favorites
House of Yes - Having lived in Bushwick for five years, House of Yes quickly became one of my favorite spots to cut loose. This ever popular LGBTQ venue prides itself in being a safe space for all and plays host to eclectic events, dance parties, screenings, theatre and cabaret shows.
Pieces - A classic NYC LGBTQIA+ bar showcasing some of the cities top drag performers. No matter what day of the week you can expect to have a great time at Pieces!
L'imprimierie - This queer community French bakery and café in Bushwick bakes some Brooklyn's best bread and pastries in small batches daily. Their chocolate croissant was my go to whenever I stopped by! A must try for a sweet treat if you are in the neighborhood.
Superfine - Nestled under the Manhattan Bridge in Dumbo, Superfine serves seasonal Mediterranean fare in a converted warehouse space with an open kitchen.
Via Carota - One of my favorite Italian restaurants located in the West Village owned and operated by chef Jody Williams alongside her partner Rita Sodi. Notable menu items are the insalata verde, the tagliatelle with prosciutto, and of course an ice cold dirty martini!
Sheep Meadow - A go to spot of mine in the Upper East Side! Sheep Meadow is a lush, expansive 15-acre lawn in Central Park and is the perfect place to sunbathe, picnic, admire the striking skyline, and of course people-watch.
GLSEN - For nearly 30 years GLSEN has been there every step of the way to ensure the rights of LGBTQ youth are protected. They works to ensure that LGBTQ students are able to learn and grow in a school environment free from bullying and harassment. If you'd like to make a donation or get involved click here.
Adam's NYC Favorites
The Odeon - This classic NYC bistro is a former hangout of New York City icons Andy Warhol, Basquiat, Madonna and more. Whats gayer than a martini and steak frites?
Oddly Enough - Queer owned bar with zero proof options and light bites in the heart of Bed Stuy- adjacent to Tompkins Avenue's iconic Sunday block parties. This is my neighborhood go-to for a Spritz on the sidewalk.
Bossa Nova Civic Club - Bossa is New York's coziest house and techno hangout. It's where I bring my friends and community together through dance music at my monthly happy hour DJ set.
The People's Beach at Jacob Riis Park - This beach is the closest thing you'll get to The Hamptons in the five boroughs. With it's art deco bathhouses and wide sandy beaches, it's a haven for the LGBTQA+ community to cool off and socialize in the Summertime.
Anthology Film Archives - Anthology Film Archives is an international center for the preservation, study, and exhibition of film and video, with a particular focus on independent, experimental, and avant-garde cinema. This is an incredible resource for rare queer cinema that has been lost to the ages.
NYPL Picture Collection - The New York Public Library's Picture Collection provides 1.5 million circulating images clipped from books and magazines across 12,000 subject headings. It's a great resource for creativity and niche history. You can check out their incredible Pride takeover on Instagram click here.
ACT UP New York - ACT UP was formed in response to social neglect, government negligence and the complacency of the medical establishment during the 1980s. Soon it found itself needing to fight corporate greed, lack of solidarity and various forms of stigma and discrimination at home and abroad. If you'd like to make a donation or get involved, click here.

LIVE FREELY, LOVE FREELY
The Heart Tote
During Pride month and beyond, FV stands with the LGBTQIA+ community in celebrating and protecting the right to love freely and to be who you are. This month we're supporting the LGBT Community Center of New York to honor the importance of inclusivity in joy-inspired fashion.


Shop Now