In The Style Of
Lydia Hirt
Meet Lydia Hirt, Chief Marketing Officer of CityPickle, a home for pickleball where everyone — from newcomers to pros — feel welcome to play, connect, and have fun. Oh, and share some tacos and margaritas too. This year, Frances Valentine collaborated with CityPickle on an exclusive pickleball tote that fits everything you need, including your paddle, sneakers, and laptop, to take you seamlessly from the office to the courts - and the post-game celebrations!
What does style mean to you?
For me, style is an extension of personal expression, and the mood or vibe I'm feeling on any given day. My mantra is"more is more" and I gravitate toward texture, color, and movement. CityPickle is a wholly female-founded and owned company. I love supporting other female entrepreneurs and designers, like Frances Valentine, and also Alala and J Game, as I frequently wear them on the pickleball court.
What's hanging on your wall?
I have a built-in bookcase across a wall in my living room that is filled with books organized by color, interspersed with photos, tchotkes from travels, and plants. It makes me happy.
What can't you live without?
I'm a maximalist and also tend toward hyperbole, so truly think I can't live without, in in alphabetical order: books, cheese, "cheers", cilantro, coffee (always hot), my colleagues, my dog, family, friends, hot spot connection, hugs, mezcal, pickleball, pizza, the chance of rainbows, sunshine, skorts, "shoulds", spontaneity, travel, my emotional support water bottle, wine
What could you do without?
Missed opportunities, insomnia, TV, slow internet connections during meetings
What's the last book that you read?
I love this question. Before CityPickle, I worked in book publishing for more than a decade and was reading at least two books / manuscripts every week. While I have less time to read these days, I've recently been captivated by the latest books from two authors I am lucky to know, who I recommend highly:
The perfect holiday gift to yourself or your best friend, The Christman Orphan's Club by Becca Freeman is what I categorize a "friend-mance" and will make you appreciate your own chosen family. #1 bestselling author and psychologist Adam Grant has another hit with his latest book Hidden Potential: The Science of Achieving Greater Things- a must read for every executive, every student, every parent.
What's the last song you listened to?
Most of the songs I listen to these days tend to be snippets of trending audios to align with CityPickle's Instagram. If putting on music while I get ready, my pickleball partner and friend Nicole has a "Dink Mix" playlist that is my go-to, full of upbeat songs, and she is a much better music curator than I could ever be.
Favorite color? 
I prefer all of the colors (like I said, maximalist) so I consider "rainbow" to be my favorite. If I need to narrow it down, I'll go with yellow.
Favorite dish?
Too many to count. New Yorkers not using their kitchens is a stereotype for good reason. I either go out, order in, or the quintessential "girl dinner" with the cheese / yogurt / leftovers in my fridge.
Favorite pastime?
Pickleball! It is my favorite hobby, workout, and my job - it's a lifestyle. I started playing during the pandemic and have met an entire community of players through the game, many of whom have become my closest friends. I think pickleball can change the world. It's accessible, social, and fun - and I want everyone to pick up a paddle, come to CityPickle, and try it. It's America's fastest growing sport for a reason!
Favorite piece in your wardrobe?
I've bought myself nice handbags to commemorate different personal successes / achievements over the years, and each reminds me of a moment in time, all of which are favorites.
Favorite thing about NYC?
The unlimited potential.
What brings you joy?
Most things, including but not limited to: A job well done. The sound of pickleball. The smiles of people that come off the court. Toasting to a friends' happiness. Loved ones. Waking up refreshed.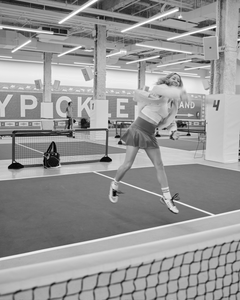 ready to hit the court?
Visit CityPickle
9-03 44th Rd, Long Island City, NY 11101
51 34th St, Brooklyn, NY 11232
GET THE LOOK
Shop Lydia's Picks
Shop now
Regular price
Regular price

Sale price

$298.00

Unit price

per

Liquid error (snippets/product-item-price line 90): Computation results in '-Infinity'0% OFF
Regular price
Regular price

Sale price

$398.00

Unit price

per

Liquid error (snippets/product-item-price line 90): Computation results in '-Infinity'0% OFF
Regular price
Regular price

Sale price

$398.00

Unit price

per

Liquid error (snippets/product-item-price line 90): Computation results in '-Infinity'0% OFF
Regular price
Regular price

Sale price

$348.00

Unit price

per

Liquid error (snippets/product-item-price line 90): Computation results in '-Infinity'0% OFF
Regular price
Regular price

Sale price

$398.00

Unit price

per

Liquid error (snippets/product-item-price line 90): Computation results in '-Infinity'0% OFF
Regular price
Regular price

Sale price

$448.00

Unit price

per

Liquid error (snippets/product-item-price line 90): Computation results in '-Infinity'0% OFF
Regular price
Regular price

Sale price

$498.00

Unit price

per

Liquid error (snippets/product-item-price line 90): Computation results in '-Infinity'0% OFF
Regular price
Regular price

Sale price

$398.00

Unit price

per

Liquid error (snippets/product-item-price line 90): Computation results in '-Infinity'0% OFF